Crescent Moon ☾
The Exiles Expansion ✴️ Last 24 hours!
---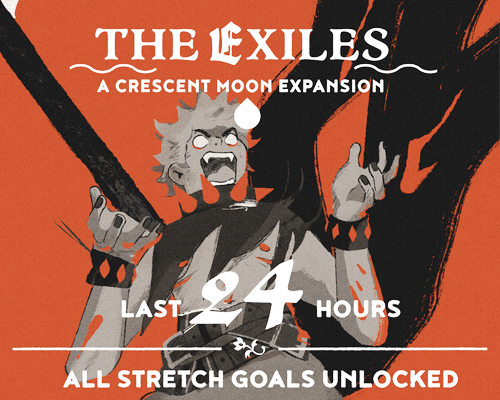 The last 24 hours of THE EXILES's crowdfunding campaign are upon us. Thanks to everyone's support, we've managed to unlock the stretch goals we had set: A special set with character sheets and item cards, writing contributions by Nychelle Schneider and Adam Dixon, interior illustrations by Conner Fawcett, and more!
We're pretty overfunded by this point, and anything raised in this last stretch goes towards improving the production values for the book and ensuring that we have a robust safety net for the project.
Thanks again all >:) Look forward to the finished expansion and the revised edition of Crescent Moon!