Crescent Moon ☾
Hello everyone! As some of you might have noticed already, the final version of Crescent Moon is finally out! You will see a bunch of new files and a complete overhaul of the page's design.
The game is now available for anyone to buy, and for all the people who pre-ordered to access. It's taken a lot of time, but I can confidently say the finished result has been well worth the wait. ❤️️ Please check it out!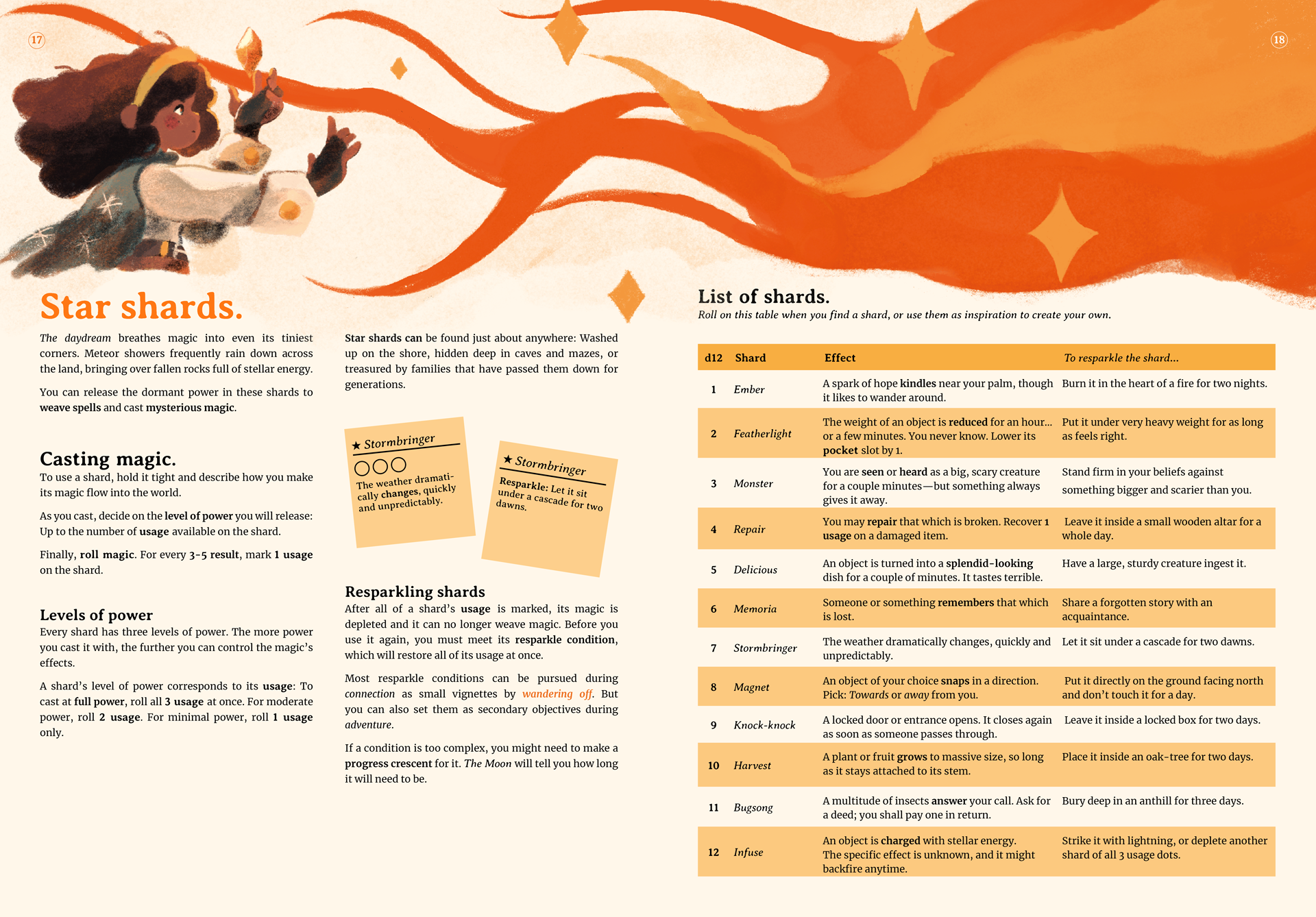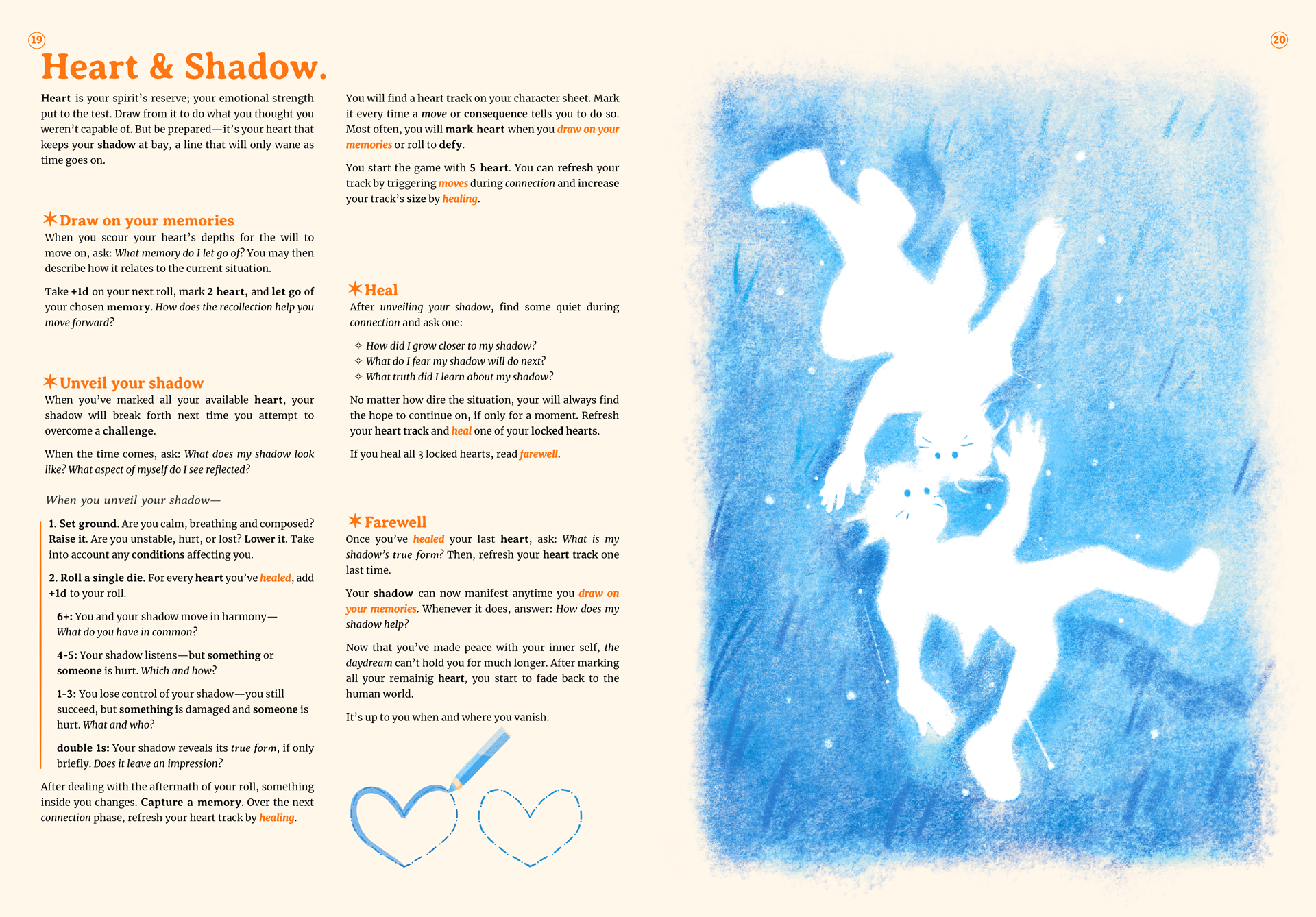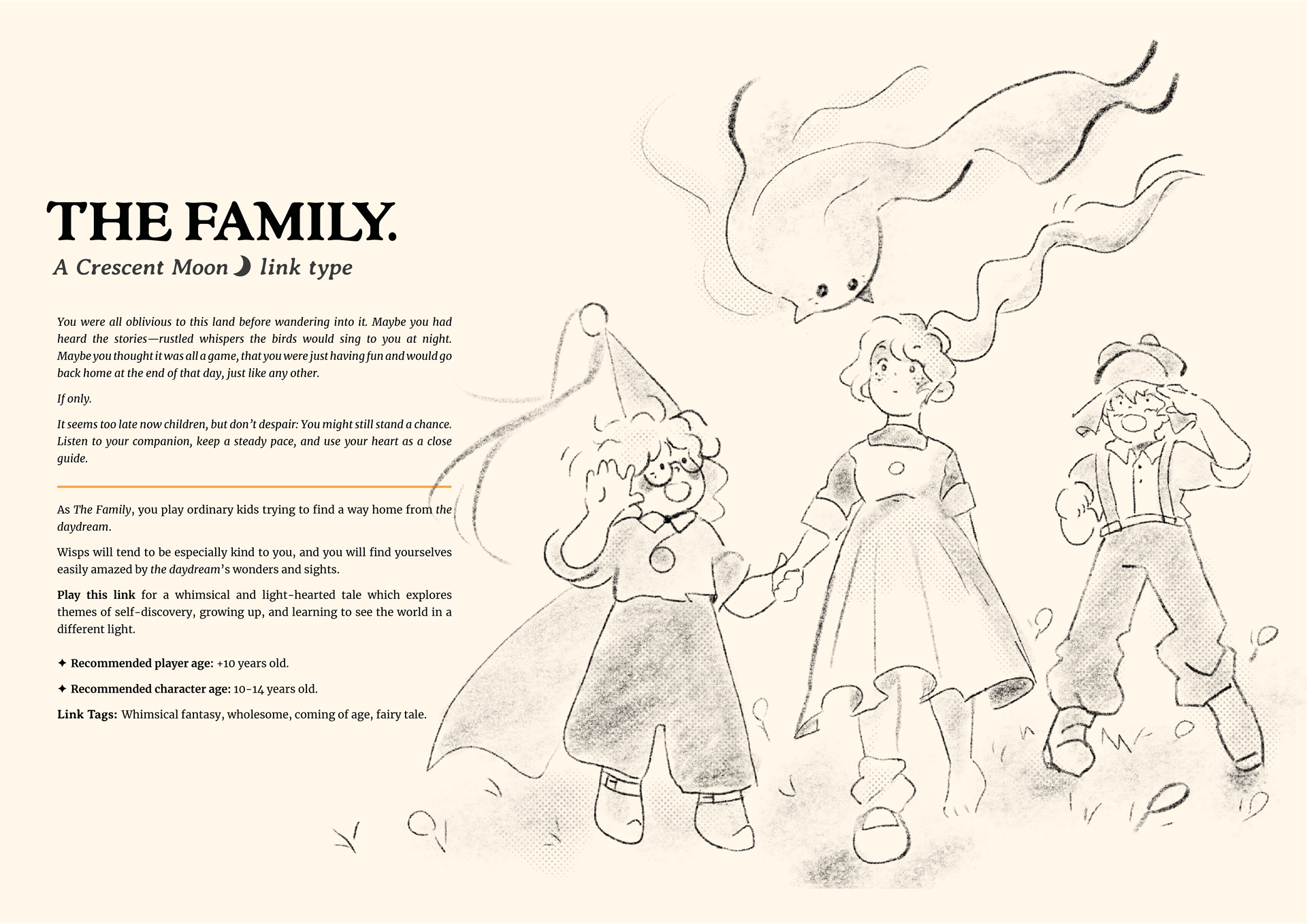 So, what comes with the full release?
A 60-page game about children, adventures, memories, and feelings. Illustrated almost page by page.
Playsets for The Family, The Stranded, and The Dreamers. A fourth one, The Exiles, will be released later on as a free update.
A handouts set with everything you need to play: rule reference sheets, campaign and safety trackers, linksheets, and character sheets.
Item and condition cards, optimized for both printing out or as digital files for online play.
Four seasonal playbooks for The Moon to pick from. Each characterizing a different aspect of the world as it cycles through its lunar year.
The conclusion of a lot of hard work, and a living memory of all the friends who came together to help this blossom into a reality.

Something looms behind the corn...
On top of the main game being released, its first supplement, The Farmstead, also comes out today! The link might take a few hours to work, but will be available in the afternoon. This little adventure is a collaboration between coolest-dude Mikey Hamm (who wrote all the words) and me! (who illustrated it and laid it out), I'm super excited to also have this released—especially with all the chilly, autumnal vibes coming up. If you dig spooky farms, open adventures, and adorably-worrying characters, give this one a look!
Moving forward
Now that the bulk of my work with this game is finished. It's probably time to start gazing at new horizons. I've got some ideas, both big and small. If you want to keep up with the very first beats of new projects, feel free to sign up to my recently-opened Patreon! Besides that, it's not like my work with Crescent Moon is totally over—I still have to write The Exiles playset, work on a third-party license, and other surprises. Stay tuned!
Files
Crescent Moon ☾ - spreads (1.1).pdf
97 MB
Sep 29, 2021
Crescent Moon ☾ - singles (1.1).pdf
84 MB
Sep 30, 2021
Handouts Set (1.1).pdf
7 MB
Sep 29, 2021
Handouts Set - Printer friendly (1.1).pdf
5 MB
Sep 29, 2021
Character sheets.pdf
1 MB
Sep 29, 2021
Item Card Set (print)
23 MB
Sep 28, 2021